Priscilla Ojo, the daughter of actress, Iyabo Ojo has set the record straight about her relationship with influencer, Enioluwa.
Recall that the two had sparked dating rumors when Enioluwa went public with their relationship a month back.
However, the two had stated that they were just friends which has left many in disbelief, especially with their constant public display of affection.
Setting the record straight on her Snapchat, Priscilla shared a screenshot of her chat with Enioluwa which was friendly.
In the chat, Enioluwa had praised his friendship with Priscilla, which he revealed came with blessings.
The influencer prayed that they remain friends forever and for their friendship to be blessed.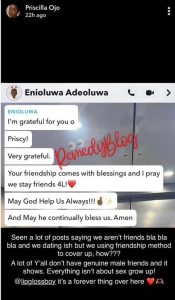 Accompanying the screenshot was a message slamming those who think the oppos!te sex can't be friends without any attachments.
"Seen a lot of posts saying we aren't friends bla bla bla and we are dating ish but we are using friendship methods to cover up, how???
A lot of y'all don't have genuine male friends and it shows. Everything isn't about sex grow up!
Enioluwa and Priscilla Ojo create a stir with affectionate pictures
Enioluwa recently caused a buzz online by sharing intimate photos of himself and Priscilla, capturing their journey to Doha—a perfect post-Africa Magic Viewers' Choice Awards retreat.
On Instagram, Enioluwa expressed excitement about the getaway, stating, "Nothing like a perfect getaway just after the AMVCAs, and we are off to Doha, Qatar!"
Confirming his relationship status with Priscilla Ojo, Iyabo Ojo's daughter
Last month, Enioluwa officially announced his relationship with Priscilla Ojo on his verified Instagram account, reaching his one million followers. Alongside cozy photos of them, he shared a declaration of love, though he maintained they were merely friends. Enioluwa expressed gratitude for being able to celebrate victories, achievements, and memorable moments with Priscilla, while also thanking Iyabo Ojo for her support.
Priscilla Ojo reciprocates love as their relationship goes public
In an Instagram post dedicated to Enioluwa, Priscilla shared multiple affectionate pictures of them together. She expressed her deep affection and appreciation for him, emphasizing that there is nothing more beautiful than someone who goes out of their way to make you smile. Her heartfelt message concluded with a simple "Love you."