Having a healthy heart is very important for everybody. Below are some foods that will help you achieve your goal of getting a healthy heart.
1. Leafy Green Vegetables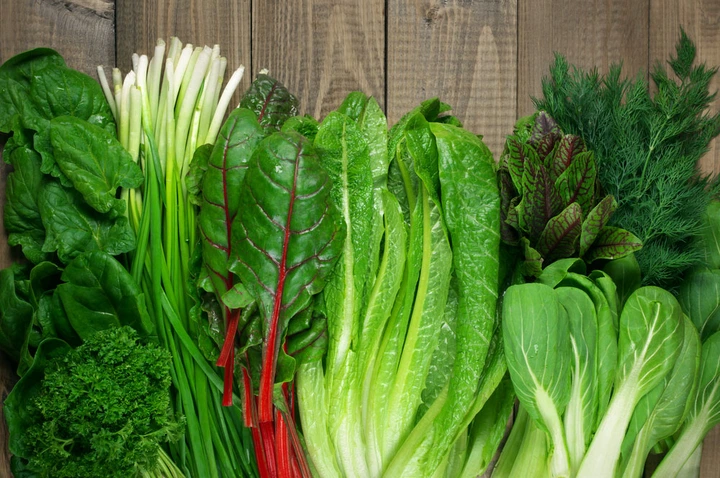 Leafy green vegetables like spinach, kale and collard greens are well-known for their wealth of vitamins, minerals and antioxidants. In particular, they're a great source of vitamin K, which helps protect your arteries and promote proper blood clotting. They're also high in dietary nitrates, which have been shown to reduce blood pressure, decrease arterial stiffness and improve the function of cells lining the blood vessels. Some studies have also found a link between increasing your intake of leafy green vegetables and a lower risk of heart disease.
One analysis of eight studies found that increasing leafy green vegetable intake was associated with up to a 16% lower incidence of heart disease. Another study in 29,689 women showed that a high intake of leafy green vegetables was linked to a significantly lower risk of coronary heart disease.
2. Fatty Fish and Fish Oil
Fatty fish like salmon, mackerel, sardines and tuna are loaded with omega-3 fatty acids, which have been studied extensively for their heart-health benefits. In one study in 324 people, eating salmon three times a week for eight weeks significantly decreased diastolic blood pressure . Another study showed that eating fish over the long term was linked to lower levels of total cholesterol, blood triglycerides, fasting blood sugar and systolic blood pressure.
Additionally, each 3.5-ounce (100-gram) decrease in weekly fish consumption was associated with a 19% higher likelihood of having one additional risk factor for heart disease, such as high blood pressure, diabetes or obesity. If you don't eat much seafood, fish oil is another option for getting your daily dose of omega-3 fatty acids. Fish oil supplements have been shown to reduce blood triglycerides, improve arterial function and decrease blood pressure. Other omega-3 supplements like krill oil or algal oil are popular alternatives.
3. Beans
Beans contain resistant starch, which resists digestion and is fermented by the beneficial bacteria in your gut. According to some animal studies, resistant starch can improve heart health by decreasing blood levels of triglycerides and cholesterol. Multiple studies have also found that eating beans can reduce certain risk factors for heart disease. In one study in 16 people, eating pinto beans reduced levels of blood triglycerides and "bad" LDL cholesterol. One review of 26 studies also found that a diet high in beans and legumes significantly decreased levels of LDL cholesterol. What's more, eating beans has been linked to reduced blood pressure and inflammation, both of which are risk factors for heart disease.
4. Tomatoes
Tomatoes are loaded with lycopene, a natural plant pigment with powerful antioxidant properties. Antioxidants help neutralize harmful free radicals, preventing oxidative damage and inflammation, both of which can contribute to heart disease. Low blood levels of lycopene are linked to an increased risk of heart attack and stroke. One review of 25 studies showed that a high intake of foods rich in lycopene was associated with a reduced risk of heart disease and stroke.
Another study in 50 overweight women found that eating two raw tomatoes four times per week increased levels of "good" HDL cholesterol. Higher levels of HDL cholesterol can help remove excess cholesterol and plaque from the arteries to keep your heart healthy and protect against heart disease and stroke (46).
5. Olive Oil
A staple in the Mediterranean diet, the heart-healthy benefits of olive oil are well documented. Olive oil is packed with antioxidants, which can relieve inflammation and decrease the risk of chronic disease. It's also rich in monounsaturated fatty acids, and many studies have associated it with improvements in heart health. In fact, one study in 7,216 adults at high risk for heart disease showed that those who consumed the most olive oil had a 35% lower risk of developing heart disease.
Furthermore, a higher intake of olive oil was associated with a 48% lower risk of dying from heart disease. Another large study also showed that a higher intake of olive oil was associated with lower systolic and diastolic blood pressure. Take advantage of the many benefits of olive oil by drizzling it over cooked dishes or adding it to vinaigrettes and sauces.